How to choose professional nail station - FAQ
Most common questions regarding nail styling equipment and how to choose best one.
We are wery keen to provide more information. Do not hesitate to contact us! Drop an email or call »»
Work comfort during manicure application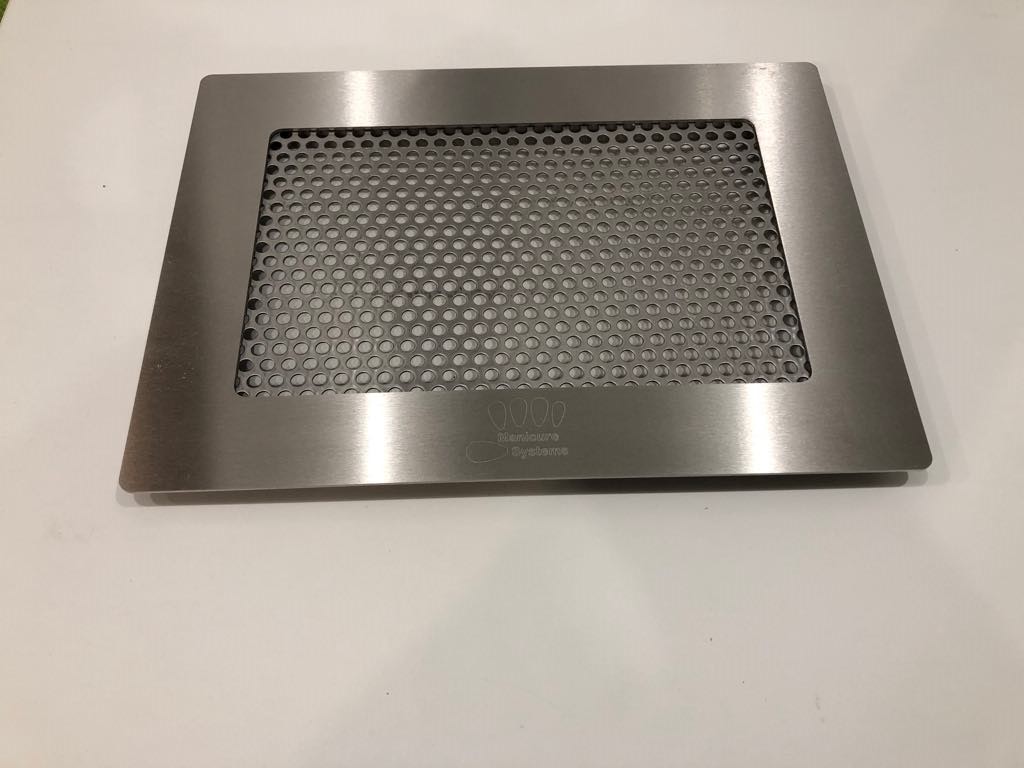 Nail stations produced by us are designed to deliver best efficiency and comfort for nail technicians and client. Important factor is area where windthroat holes are drilled in. It should be big enough to comfortably apply manicure and small enough to have appropriate air flow for dust and fumes collecting.
Our top grille with windthroat holes are carefully sized and tested over development stage to perfectly match nail station fan efficiency. Additional benefit is that container with manicure fluids or powders can be placed directly on windthroat holes thus all potential spills can be captured immediatelly.
Top grille semi-matt finish ensure high work comfort by reduce light reflection from nail lamp. It is an important issue, because nail styling requires precision and long sight concentration. Therefore we put lot of effort to limit eyes tiredness and preserving nice look and sturdiness of windthroat holes top grate.
Our nail stations have build in electrical extension block with 3 to 4 sockets where can be connected equipment such as desk lamp, UV lamp, nail drill, phone charger etc. Sockets are connected to main power switch so by one move all equipment can be turn on or off.
Filtered air exhaust is placed on nail station side to avoid unpleasant air blast on technician and customer knees. This is a common inconvenience in popular nail dust collectors mounted under countertop in nail stations.
Nail dust capturing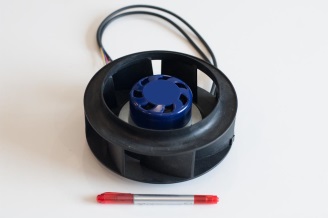 In our manicure stations and self-fitting dust collectors we apply most modern and efficient vents currently available at the market. These power is between 60 and 80 watts what is far above what our competitors offers, especially from far east, where you can find a 4 watt vents which is ridiculous and is more like toy than professional equipment. However the power is not the most important factor, but static pressure which vent can generate. This factor is crucial in nail station as higher static pressure available help with dust collected on filter and air flow is preserved. To achieve such high efficiency we using only radial fans where pressure to power ratio are highest. Fan with backward curved impeller are quietest and most efficient for this purpose so after many test we decided to make them as standard.
Our fans have efficiency from 650 up to 770 m3/h (@free air) and propeller diameter up to 200mm, hence world class performance of our nail stations that no one can match. Industrial manufacturing standard, ball bearing and electronic control give us bleeding edge in comfort, reliability and efficient nail dust capturing.
Fan is electronically controlled so speed and air flow can be adjusted according to needs i.e. larger flow for manicure removal by drill and smaller for fluid or powder application and polishing.
Manicure fumes removal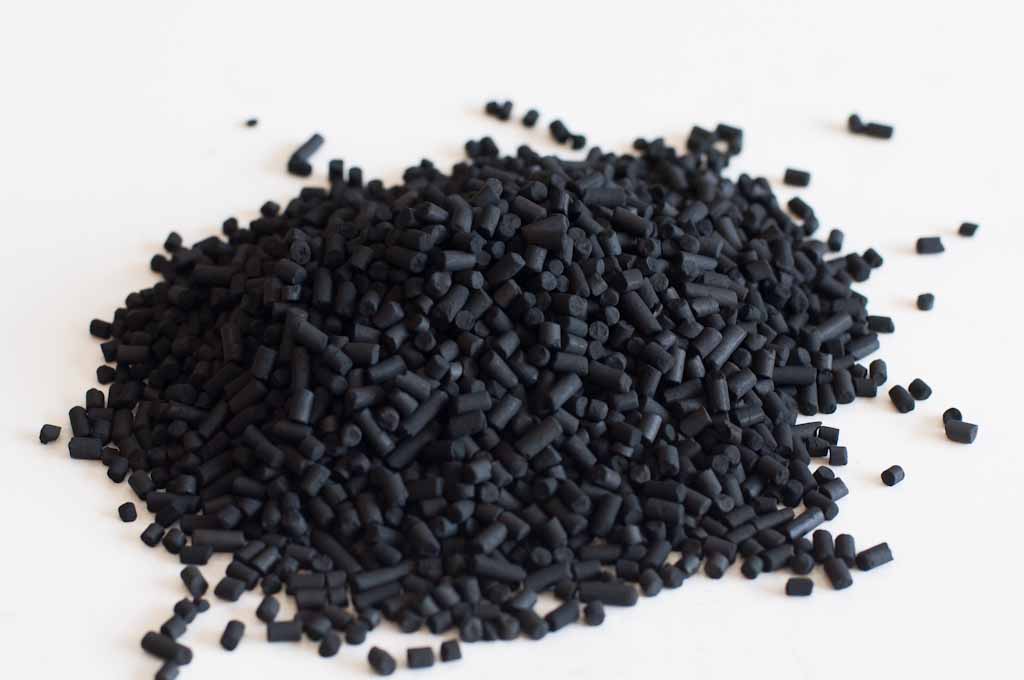 The nail station has a two-stage filtration system as standard, ensuring that both dust collected during manicure removal, grinding and polishing as well as solvent vapors generated during nail painting are captured.
The dust filter is a non-woven fabric with a standardized density that catches over 99% of impurities such as acrylic powder and dust created during manicure removal or polishing.
Activated carbon used in the second filtration stage has the ability to absorb solvent vapors, varnishes and similar harmful substances. Its properties were originally used in military masks to capture war gases, which proves its excellent effectiveness.
The estimated life of the carbon filter for full-time operation is about 3 months, although during the tests the filters effectively caught dirt even after five months of intensive use. The dust filter can be shaken out of the dust deposit several times before replacement. To replace the filters we do not need any tools and it usually takes 2-3 minutes.
The two-stage filtration system also allows us to opt out of the carbon filter when manicure products do not emit harmful odors, such as in hybrid manicure. Then the suction system has less resistance and allows for even higher thrust
We have these filters in our sales.
Durability of manicure furniture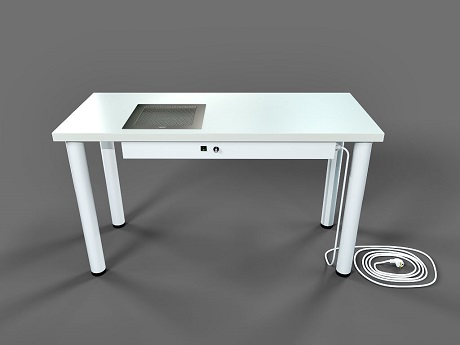 The durability of the structure is ensured by the elements and technologies used. Manicure tables and desks are equipped with EC class industrial ventilators. This is the best type when it comes to durability, power consumption and comfort. Ventilation ducts are made of metal or plates covered with a chemically resistant laminate.
Suction unit metal envelope is powder coated which is a method that gives the highest quality coatings and resistance to rust, cracks found in plastics and resistance to chemicals.
The elements on which the manicure is performed directly, i.e. the upper grille and the dust filter grille, are made of stainless steel. Acid-resistant stainless steel guarantees long-term operation, full resistance to chemicals contained in nail varnishes and easy cleaning. Aluminum used in cheap constructions, unfortunately, easily undergoes difficult to remove dirt and oxidation.
Furniture manufacture for a beauty salon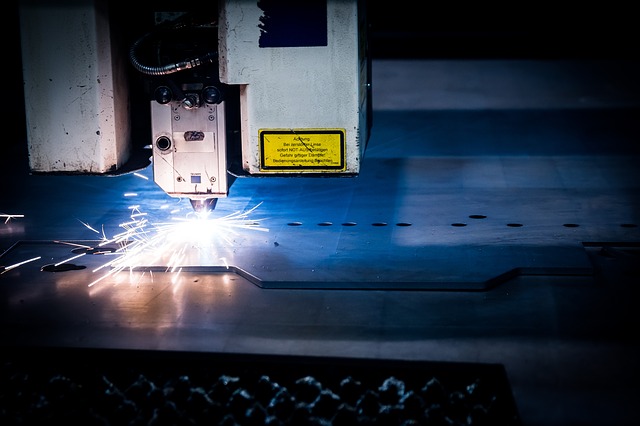 Our goal is primarily effectiveness in removing dust and fumes during application of manicure. Furniture for beauty salons that we offer has been entirely designed in our company using the latest tools for parametric 3D drafting and modelling. As we also run a beauty salon, where every idea is tested in it and any corrections are included in subsequent development versions.
Our subcontractors are also European companies with the most modern equipment including computer-controlled CNC machine tools and extensive experience. Each desk before final packing is tested so that the customer can be sure of trouble-free operation.
Originally a nail station was built for our own needs, but it were works so well that we decided to offer it for manicure salons.
Our manicure stations are especially recommended for beauty parlors offering titanium and acrylic manicures where the substances used in bases and tops are extremely irritating for throat and lungs.
Noise damping of the fan while removing dust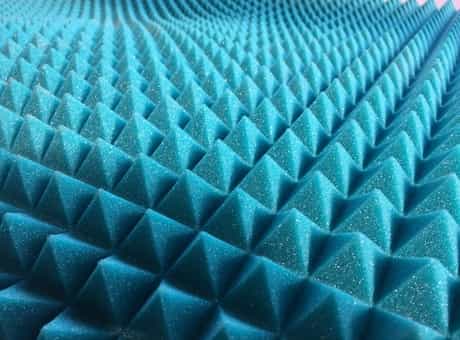 The design of the furniture is intended to minimize fan noise while maintaining efficiency. To achieve this, the fans work in own chamber separate from the suction grille and the air outlet. Only this solution allows you to effectively suck manicure dust without stunning the working person and the client
Air containing nail dust from the work table travels to the fan through ducts shaped by boards in desks or through a metal casing in the tables. These channels are lined with a chemically resistant professional damping liner with pyramid shaped notches. The advantage of this solution is the proper length of the channels and the corrugated and soft lining which is necessary to effectively suppress fan noise.
In addition, inside the enclosure there is also a damping liner after fan to ensure that the air leaving behind the fan does not cause noise to the environment. Manicurists who use our nail table do not complain of any ailments caused by noise, dust or irritating odors.
Many months of tests confirmed the effectiveness of our solution, that's why we decided to apply to the Polish Patent Office for registration and finally we received a patent confirmation.
Manicure drawers
Drawers are offered in four front heights, two depths and three performance standards
The clearance is the distance between the bottom of the drawer and the bottom of the drawer front above. Below is the maximum height of the item that we can fit in a given drawer.
Premium drawers - full extension with bearings and a silent closing
Eco drawers - 80% extendable and with steel sheet sides, roller guides a quiet closing
Basic Drawers - 80% extendable with steel sheet sides and roller guides
Drawer data
S - (small) drawer with a 100mm high front. Perfect for salons offering nail dip manicure. The standard package of 28 grams (1oz) has a height of 43 mm so the drawer will hold the powders of all major manufacturers on our market
Ground clearance: Premium - 77mm, Basic and Eco - 82mm

M - (medium) drawer with 150mm high front. Drawer dedicated to hybrid varnishes whose packaging height is mostly in the range of 80 - 120mm. Clearance: Premium - 127mm, Basic and Eco - 132mm

L - (large) drawer with 200mm high front. Drawer for accessories such as gloves, files, templates, etc. Clearance: Premium - 177mm, Basic and Eco - 175mm

V- (very large) drawer with 300mm high front. Drawer for standing containers such as liquids for cleaning countertops, acetone, etc.
Ground clearance: Premium - 277mm, Basic and Eco - 275mm

Standard drawer depths
For 600 mm containers (Monika's desk) Premium Premium: 542mm
Basic and Eco: 550mm
For containers: 450mm (Emilia and Maja desk) Premium Premium: 370mm
Basic and Eco: 400mm